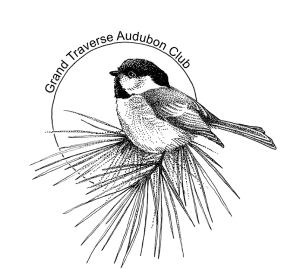 Welcome!  The Grand Traverse Audubon Club members enjoy birding together, meeting for nature-oriented programs or field trips, and participating in service projects related to the environment.  We are concerned about the preservation of habitat for wildlife, and natural areas for the enjoyment of all residents.  We are a chapter of the Michigan Audubon Society.
Our meetings are usually the fourth Thursday of the month at the Boardman River Nature Center on Cass Road at 7:00 pm.  Everyone is welcome to attend!
Official GTA club logo by Tom Ford.
 Our Next Meeting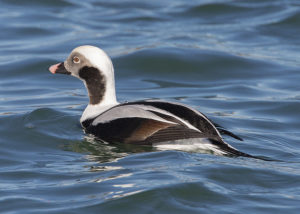 January 26– Annual Photo Fest and Party  Bring your best photos of the year, and other birding "show and tell" to our annual Photo Fest and Party.  Whether your birding highlights occurred in exotic places, or right in your own back yard, consider pulling together some of your most memorable pictures for all to enjoy.
Please join us for this popular program on January 26th, 7 pm, at the Boardman River Nature Center.
If you wish to contribute to the evening's entertainment, please email coordinator Joe Brooks at jrb258@gmail.com, so we will know how many photographers to expect.  In general, if you plan your portion of the program for under 10 minutes, there's enough time for all participants to have a turn without running too late.
* Please Note — This meeting originally was planned for December 15th, but was rescheduled due to bad weather.
(Long-tailed Duck – photo by Joe Brooks)
Upcoming Activities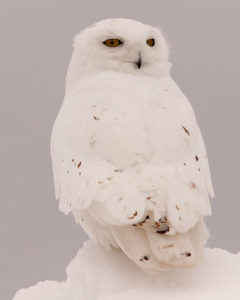 January 7 – Field Trip: Snowshoe Hike and Winter Wildlife  9 am at the Boardman River Nature Center.  Leader: Tom Ford.  Questions call: (231) 409-9203
January 26 – Regular Meeting: Photo Fest and Party  7 pm at the Boardman River Nature Center.  Bring photos, videos, and other birding "show and tell."  Contact Joe Brooks to coordinate:  jrb258@gmail.com
(When will we see our first Snowy Owl?  Photo by Joe Brooks)
Christmas Bird Counts
December 14 – Antrim County CBC  Coordinator: John Kreag (231) 264-8969 or cell (231) 360-0943
December 17 – Traverse Area CBC Coordinator: Ed Moehle (231) 947-8821
Membership
Banner photos by Ed Kaminski & Joe Brooks