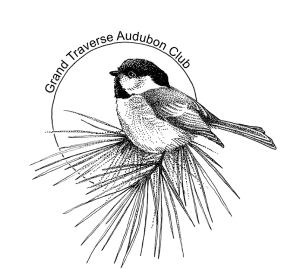 Welcome!  The Grand Traverse Audubon Club members enjoy birding together, meeting for nature-oriented programs or field trips, and participating in service projects related to the environment.  We are concerned about the preservation of habitat for wildlife, and natural areas for the enjoyment of all residents.  We are a chapter of the Michigan Audubon Society.
Our meetings are usually the fourth Thursday of the month at the Boardman River Nature Center on Cass Road at 7:00 pm.  Everyone is welcome to attend!
Official GTA club logo by Tom Ford.
 Our Next Meeting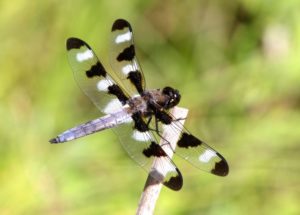 November 17 – Introduction to Dragonflies  Come find out about the fascinating world of dragonflies; how to identify them (through binocs and in hand), where to look, how many species are there, and their sex life!
Our speaker is Carl Freeman:  naturalist and wildlife artist with 25 years of experience in chasing dragonflies (and a lifetime of birds, and butterflies, and orchids, etc).
Join us Thursday, November 17, at 7 p.m. at the Boardman River Nature Center, 1450 Cass Road, south of Airport Road, where the railroad track crosses.
(Twelve-spotted Skimmer by Carl Freeman)
*And a reminder:  To renew your membership for 2017, click on the "Membership Form" link at the bottom of the page.*
Upcoming Activities
November 17 – Regular Meeting: Dragonflies  Presenter: Carl Freeman.  Questions: (231)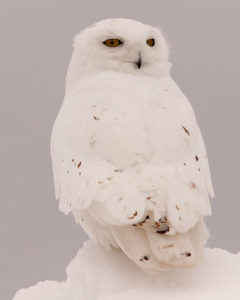 947-8821
December 15 – Regular Meeting: Annual Photo Fest & Christmas Party  Coordinator: Joe Brooks.  Anyone wishing to share photos, video, or other birding "show & tell," contact Joe to coordinate: (231) 269-4343
Christmas Bird Counts
December 14 – Antrim County CBC  Coordinator: John Kreag.  (231) 264-8969 or cell: (231) 360-0943
December 17 – Traverse Area CBC  Coordinator: Ed Moehle.  (231) 947-8821
(When will we see our first Snowy Owl?  Photo by Joe Brooks)
Grand Traverse Area eBird Sightings

Membership
Banner photos by Ed Kaminski & Joe Brooks