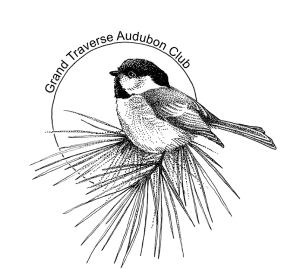 Welcome!  The Grand Traverse Audubon Club members enjoy birding together, meeting for nature-oriented programs or field trips, and participating in service projects related to the environment.  We are concerned about the preservation of habitat for wildlife, and natural areas for the enjoyment of all residents.  We are a chapter of the Michigan Audubon Society.
Our meetings are usually the fourth Thursday of the month at the Boardman River Nature Center on Cass Road at 7:00 pm.  Everyone is welcome to attend!
Official GTA club logo by Tom Ford.
 Our Next Meeting
March 23 – Birds of the Eastern Upper Peninsula  
Wildlife photographer Paul Rossi shares his work reflecting a unique understanding of bird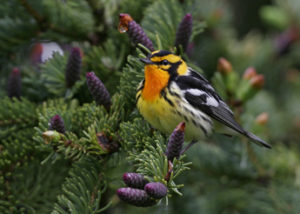 behavior which is born from a passion for wilderness and spending countless hours in nature.
His talent for finding and capturing images of rare composition, with fleeting subjects, shines throughout his work. He is also known for capturing the character of his subjects in their natural environment. His knowledge of the Eastern UP, and how its geography and weather patterns affect birds, has combined with his patience, to produce an unforgettable collection of bird photography.
Please join us for this show of stunning photography and unique glimpses into bird behavior on March 23rd, 7 pm, at the Boardman River Nature Center.
(Blackburnian Warbler – photo by Paul Rossi)
Upcoming Activities
April 15 – Field Trip: Dance of the Woodcock  Leaders: Leonard Graf/Ed Kaminski. Meet at 8:15 p.m. at the Boardman River Nature Center.  Questions: (231) 946-5120
April 27 – Regular Meeting: Birding in Costa Rica  Presenter: Cindey & Larry DuBey.  Questions: (231) 499-1318
Membership
Banner photos by Ed Kaminski & Joe Brooks