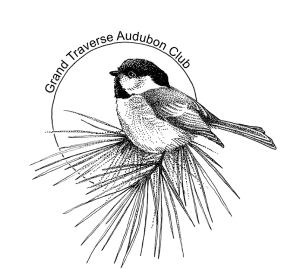 Welcome!  The Grand Traverse Audubon Club members enjoy birding together, meeting for nature-oriented programs or field trips, and participating in service projects related to the environment.  We are concerned about the preservation of habitat for wildlife, and natural areas for the enjoyment of all residents.  We are a chapter of the Michigan Audubon Society.
Our meetings are usually the fourth Thursday of the month at the Boardman River Nature Center on Cass Road at 7:00 pm.  Everyone is welcome to attend!
Official GTA club logo by Tom Ford.
 Our Next Meeting
May 26 – Regular Meeting: Potluck Dinner & Birding  Leaders: All Board Members.  Meet at 5:30 pm at the Boardman River Nature Center Pavilion.  Bring your own table service and a dish to share.  Questions:  (231) 947-8821
Upcoming Activities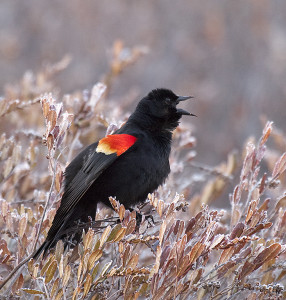 May 13-15 – Field Trip: Tawas Point & Tuttle Marsh  Leaders: Leonard & Barb Graf.  Make your own motel or campground reservations.  Meet 7:30 a.m. on Saturday & Sunday at the start of the trail in the campground.  Questions: (231) 946-5120
 May 28 – Field Trip: Boardman River Clean Sweep  Leader: John Mesch.  Canoeing/kayaking & cleaning of the Boardman River in participation with other area groups.  Shuttles provided.  Contact John in advance for staging details:  (231) 946-3624
(Red-winged Blackbird photo by Joe Brooks)
JUNE
12 – Field Trip: Butterfly Hike  Leader: Tom Ford.  Meet at 9:00 a.m. at the Pyramid Point parking lot, Sleeping Bear Dunes National Lakeshore.  Park pass required.  Questions: (231) 409-9203
JULY
17 – Field trip: Botany Hike – Ferns  Leader: Tom Ford.  Meet at 9:00 a.m at the Trails End parking lot, Sleeping Bear Dunes National Lakeshore.  Park pass required.  Questions: (231) 409-9203
AUGUST
27 – Regular Meeting: Saturday Potluck Breakfast  Leaders: All Board Members.  Meet at 8:00 a.m. at the Boardman River Nature Center Pavilion.  Bring your own table service and a dish to share.  Questions: (231) 947-8821
SEPTEMBER
22 – Regular Meeting: Ask An Arborist  Presenter: Bo Burke.  Questions: (231) 947-8821
Grand Traverse Area eBird Sightings
Membership
Banner photos by Ed Kaminski & Joe Brooks