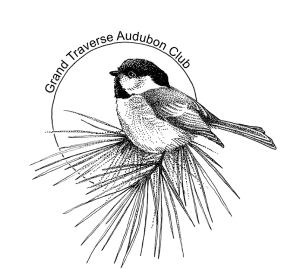 Welcome!  The Grand Traverse Audubon Club members enjoy birding together, meeting for nature-oriented programs or field trips, and participating in service projects related to the environment.  We are concerned about the preservation of habitat for wildlife, and natural areas for the enjoyment of all residents.  We are a chapter of the Michigan Audubon Society.
Our meetings are usually the fourth Thursday of the month at the Boardman River Nature Center on Cass Road at 7:00 pm.  Everyone is welcome to attend!
Official GTA club logo by Tom Ford.
 Our Next Meeting
October 15 – Annual Dinner Meeting:  Visualizing an Entire Continent – a NaturePhotography Program
Our speaker, noted photographer Charles St. Charles, sent us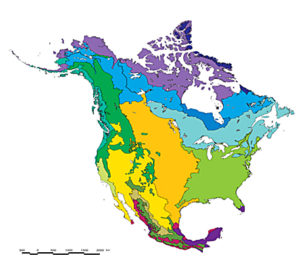 the following information about his upcoming program.
Want to learn more about the largest organism on earth, the largest migration in North America, saving a fish that lives in the desert, how the Rocky Mountains were made, and what makes Michigan unique in the world?
Then join Charles St. Charles, Cadillac area nature photographer, whose latest project involves visiting all 15 of the major eco regions in the continent, leaving 90 time-lapse cameras behind.  Their images are used to visualize life on a continent level. Each of the eco regions will be hosted in a separate edition of a soon to be released digital publication, where you'll be able to tap on any region in the continent to see, in near real time images, what is going on with the natural world in that region.
Charles's illustration and storytelling will make it easy and fun to understand the complex 15 Eco Regions in this continent we live in.  Come to join us and have a fun and educational evening this October.

(Illustrations courtesy of Charles St. Charles.)
When: Saturday, October 15, at 6 pm
Where: Twin Lakes Park – 6800 North Long Lake Road  (Twin Lakes Dormitory Meeting Room)
Cost:  $18 per person
Register for the annual dinner before October 7th, and while you're at it, why not renew your membership for 2017:  "Membership Form & Annual Dinner Form"
Send reservations by October 7th to Ed Kaminski, Treasurer, 1498 Driftwood Dr., Traverse City, MI 49686.  Questions: (231) 932-9148
For questions about the banquet call Ed Moehle at 947-8821.
Upcoming Activities
November 17 – Regular Meeting: Dragonflies  Presenter: Carl Freeman.  Questions: (231) 947-8821
December 15 – Regular Meeting: Annual Photo Fest & Christmas Party  Coordinator: Joe Brooks.  Anyone wishing to share photos, video, or other birding "show & tell," contact Joe to coordinate: (231) 269-4343
Christmas Bird Counts
December 14 – Antrim County CBC  Coordinator: John Kreag.  (231) 264-8969 or cell: (231) 360-0943
December 17 – Traverse Area CBC  Coordinator: Ed Moehle.  (231) 947-8821
Grand Traverse Area eBird Sightings

Membership
Banner photos by Ed Kaminski & Joe Brooks