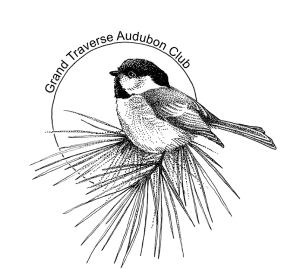 Welcome!  The Grand Traverse Audubon Club members enjoy birding together, meeting for nature-oriented programs or field trips, and participating in service projects related to the environment.  We are concerned about the preservation of habitat for wildlife, and natural areas for the enjoyment of all residents.  We are a chapter of the Michigan Audubon Society.
Our meetings are usually the fourth Thursday of the month at the Boardman River Nature Center on Cass Road at 7:00 pm.  Everyone is welcome to attend!
Official GTA club logo by Tom Ford.
 Our Next Meeting
April 15 – Field Trip: Dance of the Woodcock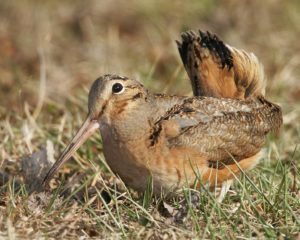 Peent, peent…whirrr!  Superbly camouflaged against the leaf litter,the brown-mottled American Woodcock is hard to find except in the springtime at dawn or dusk, when the males show off for females by giving loud, nasal peent calls and performing dazzling aerial displays.
These display flights are one of the magical natural sights of springtime in the East. The male woodcock gives buzzy peent calls from a display area on the ground, then flies upward in a wide spiral. As he gets higher, his wings start to twitter. At a height of 200–350 feet the twittering becomes intermittent, and the bird starts to descend. He zigzags down, chirping as he goes, then lands silently (near a female, if she is present). Once on the ground, he resumes peenting and the display starts over again. [text from www.allaboutbirds.org]
Please join us for a chance to witness this bird behavior on April 15th, 8:15 pm, at the Boardman River Nature Center.
(American Woodcock – photo by Richard Crossley/VIREO)
April 27 – Regular Meeting: Birding in Costa Rica
Club members Larry and Cindee Dubey traveled to Costa Rica last October. While exploring the
cloud forest and Pacific coast of this Central American country, they photographed many of the Costa Rican birds as well as some of 'our' birds on their winter grounds.
Come live "pura vida" vicariously as the Dubeys share their journey through photos and anecdotes on April 27th, 7 p.m. at the Boardman River Nature Center.
Upcoming Activities
9-11 – Field Trip: Magee Marsh  Leaders: John & Shirley Mesch. Watch for more details on GT Audubon website or email group as the date approaches.  Questions: (231) 946-3624
19-21 – Field Trip: Tawas Point & Tuttle Marsh  Leaders: Leonard & Barb Graf. Make your own motel or campground reservations. Meet 7:30 a.m. on Saturday & Sunday at the start of the trail in the campground.  Questions: (231) 946-5120
25 – Regular Meeting: Potluck Dinner & Birding  Leaders: All Board Members. Meet at 5:30 p.m. at the Boardman River Nature Center Pavilion. Bring your own table service and a dish to share.  Questions:  (231) 499-1318
27 – Field Trip: Boardman River Clean Sweep  Leader: John Mesch. Canoeing/kayaking & cleaning of the Boardman River in participation with other area groups. Shuttles provided. Contact John in advance for staging details: (231) 946-3624
Membership
Banner photos by Ed Kaminski & Joe Brooks