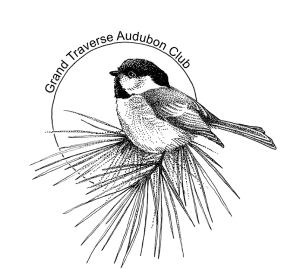 Welcome!  The Grand Traverse Audubon Club members enjoy birding together, meeting for nature-oriented programs or field trips, and participating in service projects related to the environment.  We are concerned about the preservation of habitat for wildlife, and natural areas for the enjoyment of all residents.  We are a chapter of the Michigan Audubon Society.
Our meetings are usually the fourth Thursday of the month at the Boardman River Nature Center on Cass Road at 7:00 pm.  Everyone is welcome to attend!
Official GTA club logo by Tom Ford.
Our Next Meeting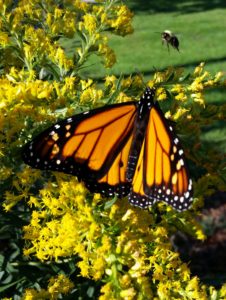 October 21 – Annual Dinner Meeting: Creating a Wildlife Friendly Yard
Presenter: Tom Ford.  Dinner, Annual Meeting and presentation. Join us as Tom shares his expertise on nesting boxes for birds, Mason Bee houses, gardening tips for growing native plants including pollinator and butterfly friendly plants.   6:00 pm. at Boardman River Nature Center.  $18 per person. Send reservations by October 14th to Ed Kaminski, Treasurer, 1498 Driftwood Dr., Traverse City, MI 49686.  Questions: (231) 932-9148.

(Photo by Tom Ford)
Upcoming Activities
November 16 – Regular Meeting: It's a Bugs Life In So Many Interesting Ways  Presenter: Sharon Benjay. Things you probably don't know about bugs and now have the opportunity to ask. Questions: (231) 499-1318
December 14 – Regular Meeting: Annual Photo Fest   Coordinator: Joe Brooks.  Anyone wishing to share photos, video or other birding "show and tell, contact Joe at (231) 269-4343.

Annual Christmas Bird Counts

December 14 – Antrim County  Coordinator: John Kreag (231) 264-8969, (231) 360-0943
December 16 – Grand Traverse County  Coordinator: Ed Moehle (231) 947-8821
December 20 – Leelanau County  Coordinator: Nate Crane (231) 499-5460, nmcrane@gmail.com
Contact any of the above CBC coordinators, if you would like to participate. ALL interest and skill levels are welcome to join.
Membership
Banner photos by Ed Kaminski & Joe Brooks